A Better Kind of Resolution
January 17, 2017
Bill Hellkamp">Bill Hellkamp
attitude change goals leadership personal development setting goals
It's the start of a new year and like many of you, I take the time to reflect on the past 365 days with a mixture of joy and regret. Joy for those wonderful people in my life and the moments we shared together. Joy for those achievements in business and in my personal goals.  And regret for those items not accomplished or opportunities missed that may never come again. I also look to the year ahead and have traditionally set goals in my business and personal life to develop more customers and make more income, to lose weight and to spend more time with my family. And while all of these are good things, I was thinking that this year I might set a better kind of goal.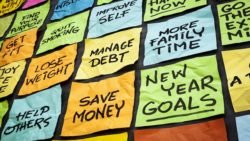 Our country has just experienced a brutal and personally contemptuous presidential campaign. Both sides (and the middle) of our political stances have been beaten bloody by an endless news cycle that seems to thrive on bitter contention. While this might be good for their ratings, I don't believe it is particularly healthy for the electorate. In addition to the media, I read the comments that individuals leave (anonymously) as responses to articles and blogs that are contemptuous in their rhetoric, totally lacking in dignity or self-restraint. Yet I find that the people I interact with every day don't treat each other this way nor do they want to. They are good, honest and competent people who want to live in harmony with others. So that brings me to the essence of my "better kind" of resolution. My resolution for this year is to serve others more and better. And for my inspiration I look to the words of Francis of Assisi who said:
Where there is hatred, let me sow love;
Where there is injury, pardon;
Where there is doubt, faith;
Where there is despair, hope;
Where there is darkness, light;
Where there is sadness, joy.
Think of the greatness of this advice! What if all of us were to spend this year returning the negative we face with its opposite? We can do this without hurting ourselves or costing a dime. We can do it without practice or training. The ability to make our environment more joyful is to not take the bait when someone tries to rile or insult us. Instead we can respond to them with civility, kindness and a smile. It is interesting to also examine what Francis says will be our reward for turning away from the negative:
For it is in giving that we receive;
It is in pardoning that we are pardoned
He says that what we will receive in return is exactly what we put forward. If we give honesty, hard work and kindness, we will get it back. How nice is that! And you know what, it is good business as well! So, if you wish, join me this year in serving others and establishing relationships built on trust and good will. What a year 2017 can be.