Are Your Meetings Providing Value?
April 2, 2014
Bill Hellkamp">Bill Hellkamp
Meetings Productivity Time Management
By Bill Hellkamp, REACH Development Systems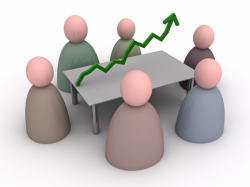 "Meetings are indispensable when you don't want to do anything."
John Kenneth Galbraith
This quote might be overstating the problem somewhat, however it does reflect the opinion of many regarding the value of meetings. Many professionals, including myself, have spent too much time in meetings that don't produce the required results. As a leader, have you ever considered the cost of all of those meetings that are conducted daily in your organization? For most companies the price tag can be staggering! If you have 8 people making an average of $50,000 per year participating in a 15 hours of meetings per week costs over $3000 per week and $170,000 per year!  (Meeting Cost Calculator) While many meetings are necessary and produce the desired results, the prevailing mind-set didn't come about without just cause.
It is our responsibility as leaders that we not only make sure that our own meetings are productive but that all meetings being called in our organizations are productive. Does your staff know how to run a good meeting? Is time being wasted in your company?  Below are links to some other articles that will give you some helpful tips. But if you need more direct help I would be happy to meet with you to discuss the issue in more detail.